Why Hire Us As Your Buyer's Agent?
We have compiled some key points that we believe sets our boutique brokerage apart from other traditional real estate brokerages in the Metro St. Louis area.
Market Specialization
Selling condominiums is what we do. Focusing on condo sales in Clayton and the surrounding St. Louis Metro area allows us to gain valuable insight into market trends.
You want the REALTOR® that represents you to know how to overcome obstacles and avert problems that pertain specifically to buying a condominium or loft.
Local & Independent Brokerage
We are locally owned. No franchise here. We are life-long residents of the St. Louis area. We have a passion for our hometown and it's unique neighborhoods. We believe it is a great place to call home.
As a smaller brokerage focused on personalized service, this allows us to really hone in on our clients needs and preferences. We believe in building relationships with our clients and helping them successfully reach their goals. We offer candor, years of experience, and our commitment to guide and assist you to a successful closing.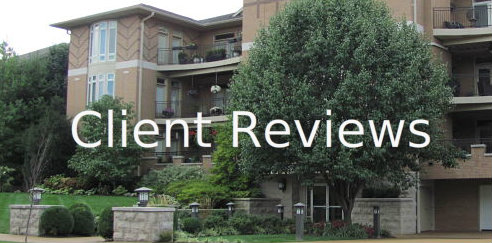 Depth of Neighborhood Knowledge
Statistics are important, however getting out there and personally touring condominiums, throughout Clayton & the surrounding communities allows us to advise you on properties that stand out as a "good" buy. We can also advise you on the buildings and developments that have issues. We are constantly touring so we hear about the condo associations that are struggling with association reserves and knowledge of buildings that have a lot of deferred maintenance.
Our Service Doesn't Cost You Anything

That's right, our brokerage fee is paid by the seller. In St. Louis, REALTORS® cooperate via the MLS (multiple listing service). The listing agent collects a commission from the seller and shares it with the buyer's agent. So you receive years of experience and expertise at NO COST to you. Why not have a committed advocate working on your behalf.
Artful Negotiation
Bringing two opposing sides to consensus is a complicated process. You want to have a strong negotiator representing your side and feel confident that they know how to work with the listing agent to overcome obstacles, resolve issues, and in the end put together a mutually acceptable agreement.
It's imperative to have an agent who knows how to keep a sale from falling apart. Knowing what to say and when to say it can mean the difference between success and failure. Many times our commission is earned in this area alone.
We Handle the Details
Once you hire us as your buyer's agent, you'll receive dedicated and focused attention. We will coordinate and assist with the dozens of details and issues that pop up and need to be addressed, tracked, and handled. We strive to keep you informed, yet not bogged down in the multitude of details required to successfully get you from contract to closing.
Personalized Property Search Web Portal
Lender Recommendations
Property Previews
Neighborhood Research
Property Background Research
Contract Preparation & Negotiations
Review Condo Resale Certificate
Title Company Assistance
Review Title Commitment
Home Inspection Coordination
Review Inspection Report
Prepare & Negotiate Inspection Notice
Handyman Recommendations
Coordinate Repair Bids
Coordinate Closing
Review Closing Statement
Coordinate Delivery of Keys
Post Closing Follow-Up
We would love to meet you in person to review how we can help you reach your desired goals. Fill out the "Get In Touch" Form or give us a call at 314.414.0080