Why Hire Us to Sell Your Condominium?
We have compiled some key points that we believe sets our boutique brokerage apart from other traditional real estate brokerages in the Metro St. Louis area.
Local & Independent Brokerage
We are life-long residents of the St. Louis area. We have a passion for our hometown and believe it is a great place to call home!
We provide our clients with personalized service. We believe in building relationships so our clients are confident with our candor. We focus on people and their goals.
Market Specialization
Selling condos is what we do! Focusing on condominium sales in Clayton and the St. Louis Metropolitan area allows us to gain valuable insight into market trends. We routinely track sale statistics so our client's can stay ahead of the curve.
You want the agent that represents you to know how to overcome obstacles and avert problems that pertain specifically to selling a condominium.
Depth of Neighborhood Knowledge
Statistics are important, however getting out there and personally touring condominiums, throughout Clayton & the surrounding metro St. Louis area allows us to advise you on the competition and assist you in determining the best pricing strategy for your property.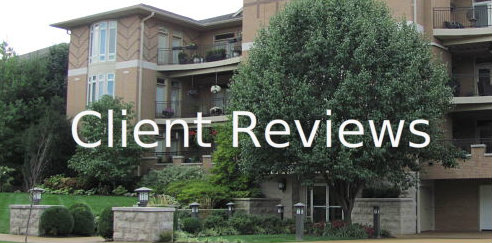 Seller Representation
You want a real estate brokerage that is committed to providing you with the very best seller representation.
Our focus is making sure we help you reach your goals. This might be getting your property sold quickly, or perhaps you are want to receive top dollar for your condo. We have had other clients that have special circumstances and need a delayed closing.
Our job is to successfully get you to the closing table and assist in making the process as easy as possible.
We make your condominium easier to buy
Today's buyer is more sophisticated than ever and they want access to detailed information on your condo, as well as, neighborhood, school, and community information. Over 97% of buyers use the Internet to search for their next home.
This is where we come in; utilizing the latest innovative tools to provide the buyer with detailed information they demand. A well informed buyer is more apt to write a purchase offer.
Some of the marketing tools to make your condo stand out from the competition.
Live Stream Tours
Social Media Marketing
Photo Slide Shows
Video Tours
Neighborhood Tours
Virtual Tours
Personalized Property Website - Example
We can also advise you on the type of repairs and tweaks that will make your condominium more appealing to prospective buyers.
Artful Negotiation
Bringing two opposing sides to consensus is a complicated process. You want to have a strong negotiator representing your side and feel confident that they know how to work with the buyer's agent to overcome obstacles, resolve issues, and in the end put together a mutually acceptable agreement.
It's imperative to have a REALTOR® who knows how to keep a sale from falling apart. Many times our commission is earned in this area alone.
Details, Details, Details, and more details
A real estate transaction has literally dozens of details and issues that pop up and need to be addressed, tracked, and handled. We strive to keep you informed, yet not bogged down in the multitude of details required to get your property successfully sold. We use an on-line tracking system so we can get you to the closing table as smoothly as possible.
We are very proactive in keeping an eye out for issues that can become obstacles or even deal breakers.
Pre-Listing Consultation
Neighborhood Research
Property Background Research
Pricing Strategy Consultation
Contract Preparation & Negotiations
Review Condo Resale Certificate
Title Company Assistance
Home Inspection Coordination
Review Inspection Report
Negotiate Inspection Notice
Handyman Recommendations
Coordinate Repair Bids
Coordinate Closing
Review Closing Statement
Coordinate Delivery of Keys
Post Closing Follow-Up
We would love to meet you in person to review how we can help you reach your desired goals. Fill out the "Get In Touch" Form or give us a call at 314.414.0080